ALABAMA REACTS TO RECEIVING CMA'S HIGHEST HONOR, THE PINNACLE AWARD
Iconic country group ALABAMA is no stranger to industry awards, having received over 250 throughout its 50-plus year career. Last night, founding members Randy Owen and Teddy Gentry received yet another accolade and arguably their biggest yet, CMA's highest honor, the Pinnacle Award.
During the final evening of live CMA Fest concert performances at Nissan Stadium in Nashville, ALABAMA surprised thousands of fans with an unannounced appearance. The legendary band kept fans on their feet with hit songs "Dixieland Delight," "Mountain Music," "If You're Gonna Play In Texas (You Gotta Have A Fiddle In The Band)," and "Tennessee River."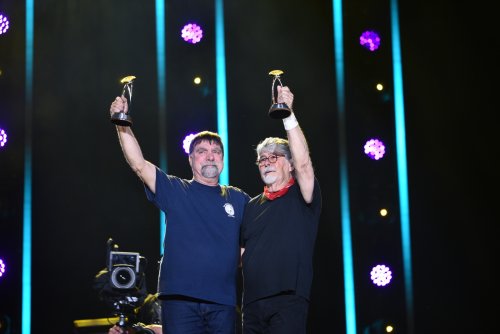 Following their performance, Dierks Bentley surprised Owen and Gentry with the CMA Pinnacle Award, marking only the fourth time in history the honor has been bestowed. The three previous recipients of the award are Garth Brooks, Kenny Chesney and Taylor Swift.
"We had a great time playing CMA Fest, but we still call it Fan Fair," says Owen. "To celebrate our 50th anniversary as a band and to play the Fest on its 50th anniversary was very special. Receiving CMA's highest honor, the Pinnacle Award, was the surprise of the night, and we are so honored and humbled."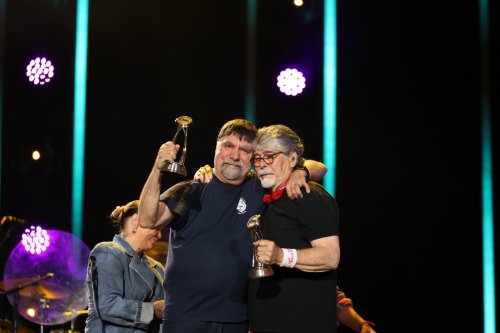 The Pinnacle Award recognizes an artist or group who has undeniably redefined the pinnacle of success in the genre by achieving prominence through concert performances, consumption numbers, record sales and/or other significant industry achievements at levels unique for country music. They have also attained the highest degree of recognition within the broad expanse of music worldwide, and their talent and presence will have a long-term positive impact on the appreciation of country music for generations to come.
"We understand that the only others who have received this award are Kenny Chesney, Taylor Swift and Garth Brooks," adds Gentry. "That puts us with some amazing talent that are still recording and touring. We thank the CMA board for this award and are thankful to the three generations of fans who love our music."